Aries Systems and Fonto
Typefi: DO MORE with automated publishing for all your content
"For anyone looking to maximize the benefits of their XML, integrating Fonto Editor with Typefi's world-leading automated publishing production platform is a natural choice. Our mutual customers have nothing but great things to say about Fonto, and we're proud to partner with a company that provides such a user-friendly, best-in-class XML authoring and editing solution."
Chandi Perera
Typefi CEO
overview
Aries Systems
Aries Systems transforms and revolutionizes the delivery of high-value content to the world. We are committed to providing highly customizable, flexible, and innovative workflow solutions designed to help enhance the discovery and dissemination of human knowledge on a global scale.
Our cloud-based solutions, Editorial Manager® (EM) and ProduXion Manager® (PM), manage the complexities of the traditional publishing workflow and create a true end-to-end solution, from manuscript submission to publication and beyond.
As a trusted partner, Aries provides dedicated support by pairing every journal with an Account Coordinator (AC) to deliver personalized, high-quality service.
Collaboration
Fonto and Aries Systems' LiXuid Manuscript™
Fonto's Editor powers Aries' LiXuid Manuscript™ tool, a value-added feature that works within Aries' peer review and production tracking systems, Editorial Manager® and ProduXion Manager®.
The Fonto and LiXuid integration focuses on the proof correction process, allowing authors and editors of scholarly content to directly edit their accepted manuscript in an intuitive, word processor-like user interface, while preserving underlying XML.
Authors are provided with a simple, fast and clean proofing process while production editors can enjoy flexibility with Fonto's editing capabilities by inserting author queries directly within the document and simply reviewing the inline responses from the author.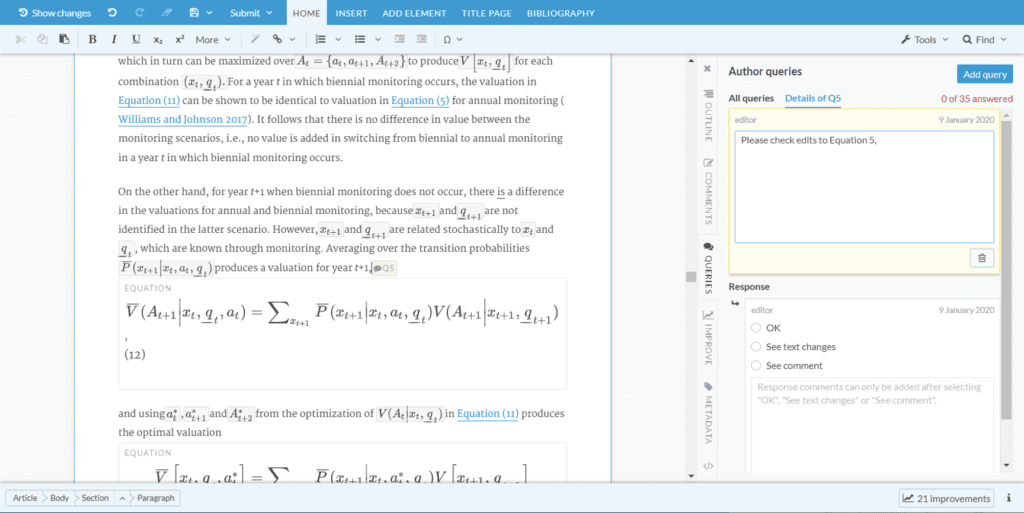 About us
Try Fonto For Free
We can spend a 1000 words on how intuitive Fonto is
but why don't you find out for yourself!
"Fonto's robust configuration options give our customers total control over how the editing tool is used. Authors may be given simple formatting and text editing permissions, while production editors can have access to the entire suite of editing capabilities that allow for heavy copy editing, like inserting and editing equations, tables, figures and references."
Tony Alves, Director of Product Management, Aries Systems
"Editorial Manager is actively deployed with 7,000+ journals and millions of registered users. Publish faster, publish smarter, with Aries Systems."
Try Fonto For Free
We can spend a 1000 words on how intuitive Fonto is
but why don't you find out for yourself!