Oberon Technologies & Fonto
Fonto platform forms the foundation for Titania Web Editor & Web Reviewer
Oberon Technologies
Oberon Technologies is a strategic consultant, expert systems integrator, and innovative software solution provider. Leveraging our extensive experience working with leading content technologies, industry standards (i.e.XML, DITA), innovative applications (VR, AR and IoT) and proven development methodologies, Oberon helps organizations identify the right tools to create, manage and deliver content that is optimized for all delivery formats in both physical and virtual environments. With a proven track record, the highest integrity and 100% customer success, Oberon Technologies experts are unmatched in their ability to successfully implement and customize solutions to meet all content needs.
Fonto & Oberon's Titania Software
Oberon Technologies has developed a suite of software tools that help streamline the documentation process and simplify information delivery to all consumers. Leveraging the Fonto platform, Oberon developed two new tools, Titania Web Editor and Titania Web Reviewer. These tools make it easy for casual contributors and subject matter experts to create and review XML content in a simplified, tagless environment that can be directly incorporated into the overall technical documentation workstream. The intuitive UI of these web-based tools makes it easy to start with a content template or create files from scratch using common functions including copy/paste, insert table, graphics, formulas and more. And the seamless integration with PTC's Windchill PLM allows users to easily check-in, check-out and participate in workflows all without leaving the Titania Web Editor interface. Titania Web Editor and Titania Web Reviewer make it easy for anyone to become a part of a streamlined documentation lifecycle.
In the media
"Manufacturing companies must, as part of their product design, manufacture and deliver a large volume of technical data ranging from product specifications to user manuals. The authoring and reviewing of this data can burden the company's subject matter experts and steal their time away from their engineering tasks. Oberon has recognized this challenge and developed a flexible cloud-based solution that eases the burden on engineering staff and makes the data easily available to interested parties. CIMdata recognizes the strength of the Titania solution and the role it can play in improving a company's ability to deliver their products with a better-quality experience for their clients." CIMdata, April 6, 2021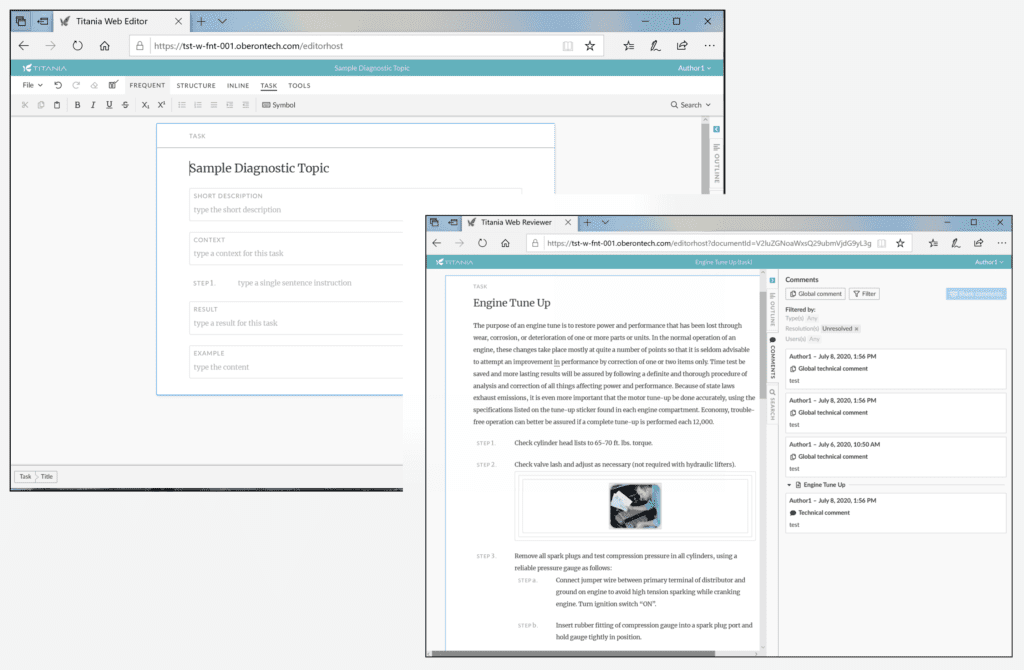 Benefits of Titania Web Collaboration Suite – Web Editor and Web Reviewer
Titania Web Editor – Allows casual authors and SMEs to easily create content that can be seamlessly incorporated into the document production process – reducing burden, saving time and increasing information accuracy.
Titania Web Reviewer – Makes content reviews easier and faster by focusing reviews to only relevant information components, enabling collaborative online review, and automating the integration of feedback directly into source content.
Oberon provides the web-based tools you need to:
Shorten content creation, review, and publishing cycles
Simplify the capture of text and non-textual content for all contributors
Eliminate documentation burdens on SMEs, IT and authoring teams
Improve consistency and accuracy of product information
Improve time-to-market
"Our customers are very excited about the many business critical use cases these easy-to-use web-based XML authoring and review tools enable. Now their engineers, field technicians, marketers and managers can all efficiently engage in the documentation process. Nearly, every time we introduce the tools to customers, they help us realize new opportunities to significantly improve their content development and review processes."
Todd Burdin, Product Owner, Oberon Technologies
"Our teams' uncompromising integrity, tools-agnostic perspective, and vast experience has made Oberon the trusted content service provider for incredible organizations from startups to Fortune 500 companies. With a proven track record, the highest integrity and 100% project success, Oberon Technologies' experts are unmatched in their ability to support any business content need."
Try Fonto For Free
We can spend a 1000 words on how intuitive Fonto is
but why don't you find out for yourself!