Xopus has been on the XML editor market for years. Xopus was the first WYSIWYG XML editor that worked directly from the browser. In 2020 though, SDL (RWS today) decided to stop the development and support of Xopus, and to replace it with Fonto Editor in its Tridion Docs solution.
In this article, we describe the necessary steps, and points of attention, when migrating from Xopus to Fonto Editor.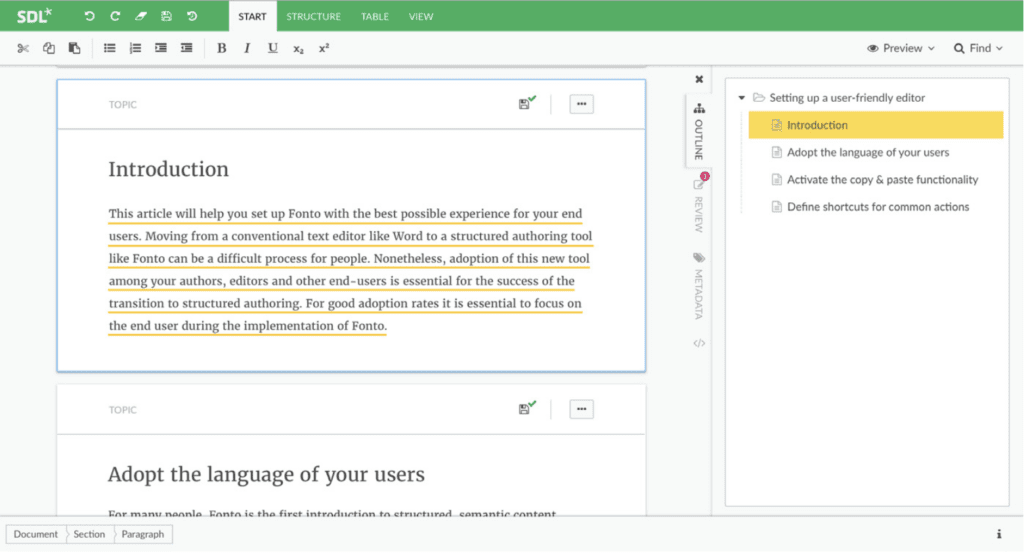 Preparing the migration from Xopus to Fonto
The migration from Xopus to Fonto requires some preparation. Some configuration files can be reused, while other settings have to be configured directly within Fonto.
XSD schema
The original Xopus XSD schema can be reused. The Fonto XSD compiler accepts any valid XSD schema. The schema compiler is used once, or when the XSD files are updated, to compile an optimized version of the schema into your editor. This enables Fonto Editor to perform real-time, client-side validation.
Styling of the editor
Fonto does not use XSLT files, we use a custom configuration API for element visualisation and behaviour. Although Fonto does support custom CSS files, the Xopus CSS-file is not directly usable, because the Fonto browser DOM is not determined by XSLT and the necessary CSS selectors will differ between Xopus and Fonto.
We recommend deducting from the existing Xopus configuration, what the user expectation might be, and loosely translate that to Fonto's element configuration options. Fonto Editor focuses on providing the authors with a What You See Is What You Mean (WYSIWYM) experience: content is displayed in a structured way, marking the content according to its meaning and its significance in the document. The final appearance is left up to the style sheet defined in the output channel. The WYSIWYM experience contributes to the performance of the editor and feature improvements that we work on continuously.
Configuring operations
Please keep in mind that some time should be spent on selecting appropriate operations that are associated with any particular element (eg. via the right-click menu) or the toolbar. These aren't automatically generated for all schema possibilities.
Examples
Over the past year, a lot of Xopus integrations have been replaced by Fonto Editor. A good example is Fass.se, the Swedish electronic medicines compendium. New medicines and changes to existing medicines are authored using Fonto Editor, efficient, fast, and flawless. Read the full case study.
Limitations of continuing editing content via Xopus
RWS stopped the support and development of Xopus in 2020. Since the release of Tridion Docs 14, Content Editor (Xopus) is replaced by Draft Space (Fonto Editor). This means that there won't be any updates and support for Content Editor, while web browsers are developing rapidly.
About Fonto Editor

Fonto Editor is the online XML editor, designed for people with no knowledge of XML or any other technology that comes with structured content authoring. We let subject matter experts create, edit and review mission-critical documents. Flawless, fast and efficient.