Technical documentation is of increasing importance for the customer journey that companies offer their clients and prospects. The XML Documentation Add-on for Adobe Experience Manager is the solution for organizations breaking down the barriers between technical and marketing content.
The importance of structured content is growing. As a result, the task of structured content authoring is increasingly spread across the enterprise. No longer is structured content authoring work for technical communication specialists only, but subject matter experts from all around the company are involved.
While Adobe FrameMaker is the editor of choice for technical documentation and the perfect tool for technical writers, extending AEM with the FontoXML web-based authoring tool allows everyone in the enterprise to write structured content.
---
A superior experience for web-based structured XML authoring
Subject matter experts, marketers and others outside the technical documentation department are usually not trained in structured content authoring or XML. It is vital for authors that the structured XML-editor they are using resembles closely the ways of working they are used to. For a successful adoption of structured content authoring, the absence of a learning curve is essential.
FontoXML is an intuitive web-based XML editor that can be used without any XML knowledge or training. XML content is presented in a WYSIWYG-like way, and cursor-and keyboard behavior closely resembles that in general word-processing tools. However, "under the hood," authors are directly editing XML, which means that the documents they create or edit are always compliant with the XML schema.
FontoXML solely needs a browser to run and perfectly fits in the web-interface and architecture of AEM. Configuring FontoXML for specific user-requirements is easy and rapid allowing you to optimize the authoring experience.
Content authoring successfully decentralized
Structured content authoring may be complex by nature. FontoXML "hides" that complexity. All powerful features of DITA are available:
Ready for multi-channel publishing
Content chunking, re-use, and repurposing
Configurable templates for standard or specialized DITA types
Conditional and targeted publishing
Guided authoring, single-click forms
Contextual operations, keyboard short-cuts
Powerful table-support, including Copy and paste directly from spreadsheets.
Advantages of FontoXML at a Glance
Web-based authoring optimized for subject matter experts
Completely browser-based
Seamless integration in AEM workflows
Simultaneous editing of multiple DITA-maps and topics within their context
Familiar and configurable keyboard shortcuts
Authoring Experience Library for flexible interface configuration
Mini-templates: guided authoring for specific structures
Powerful copy and paste from a broad range of document formats
Seeing is believing!
Got curious on how FontoXML will engage your authors and want to know more?
Please have a look at our screencasts videos, or schedule an online demo!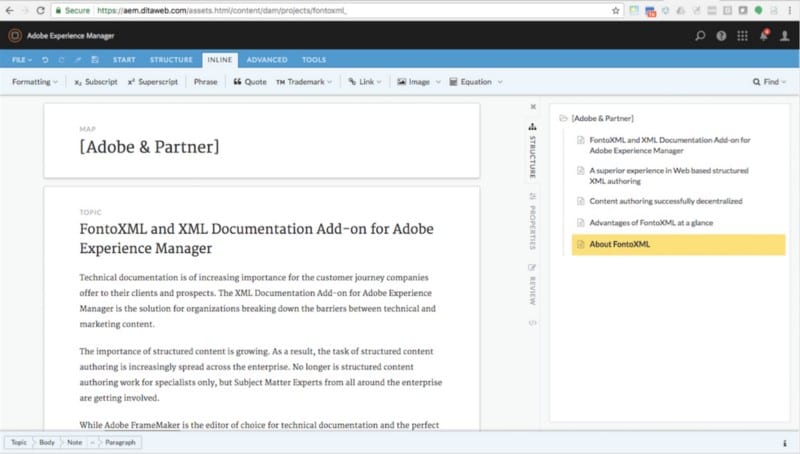 ---
This article was previously published by our CEO, Jan Benedictus, on Adobe's Technical Communication blog.
CEO at Fonto. Enthusiastic sailor. Tweets in English and Dutch.