We've always strived to bring a great experience with our products from top to bottom and left to right, but with our latest release we now also deliver a great experience from right to left with the support of right-to-left (RTL) scripts. But that's not all. The introduction of person profiles adds a little personal flair to the work you're doing in our products, we've made it easier to use special characters throughout our product suite, and we've introduced brand new UI to show how your tables have changed when viewing them in Fonto Document History.
Right-to-left (RTL)
In this release, we formally announce support for authoring in Arabic, Hebrew, and other right-to-left (RTL) scripts. We've made updates all across the platform to support these languages and provide a consistent authoring experience to our users writing in RTL languages.
Firstly, we've created a toolkit of Cvk options and XPath functions that allow partners to configure RTL authoring environments for their users that render RTL and mixed-direction content consistently across the platform. This toolkit also includes some additional numbering systems from Hebrew, Arabic, and Farsi that can now be used for numbered lists or chapter numbering in the Outline.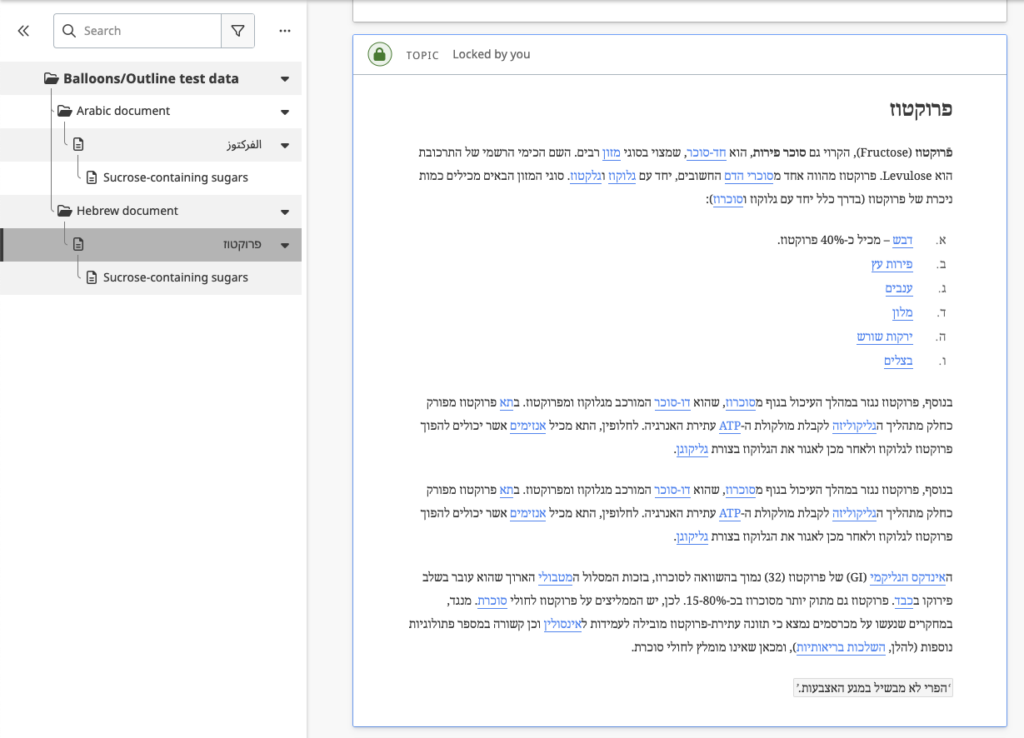 We have also taken special care to update the user interface to accommodate our RTL language users. Outline filters, find and replace search results, and even tables can now handle RTL and mixed-direction content!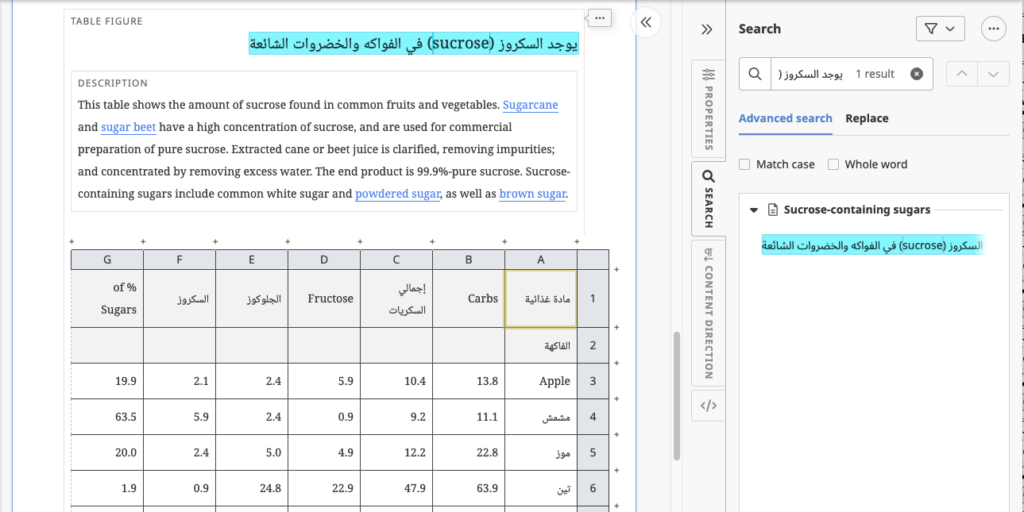 Fonto now also supports saving the writing direction of both annotations and review comments. This means that document reviewers can now draft comments and suggestions in their native language (or a mix of languages) and be sure that Fonto will preserve their intent. Please see the fontoxml-review-reference-configuration for an example of how to save the writing direction of comments and render comment balloons using the saved writing direction.

We have also updated the fonts used for both UI and content to the Noto font family to better support text rendering in Arabic and Hebrew. While we previously supported Latin, Greek, and Cyrillic scripts, we now also support Arabic and Hebrew with the fonts we include by default.
Special characters
In some languages, it is often necessary to insert characters that do not appear on that language's keyboard. To better support this use case, we have created two new UI components that allow users to more easily browse and insert special characters. The new special characters dialog is resizable and can be dragged around without preventing access to your document.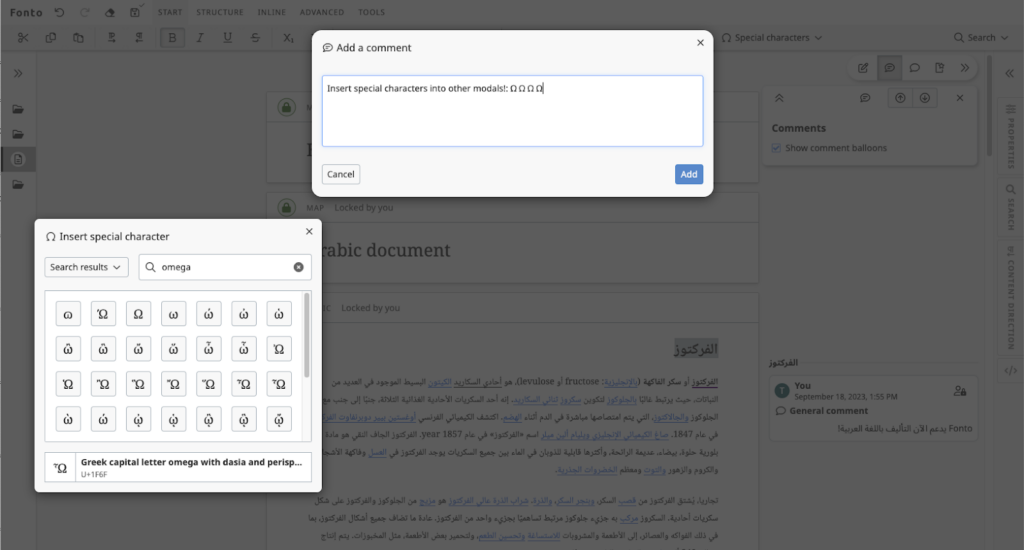 Additionally, the new SpecialCharactersDropButton can be added to the Editor and Review mastheads for quick access to frequently used characters and character sets.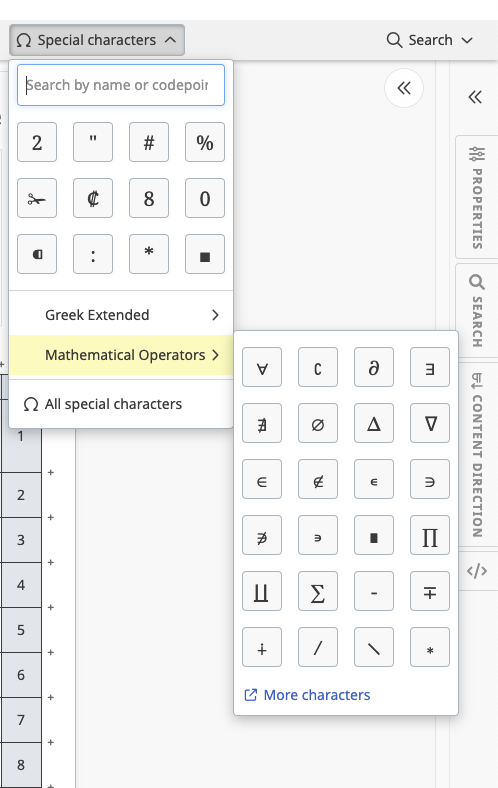 Both components can still be used to insert characters into the content view, but now also work on other input fields such as search inputs and review comments. The dialog can even insert characters into modals that would otherwise prevent accessing the rest of the UI!
Person profiles
This release gives Fonto a more personal touch! We are introducing person profiles into various areas of the product. Next to regular display names of users, we now also show user profile pictures and additional user information, like their job title and/or department.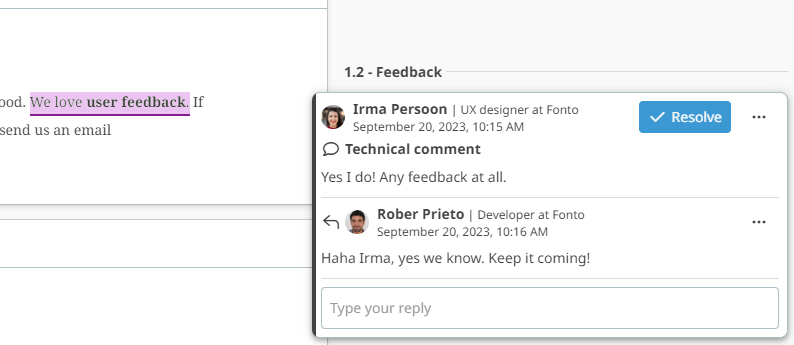 Fonto's use of display names will automatically change to use the new profile visualization. That means Fonto Review, Fonto Document History, fontoxml-annotations, and fontoxml-track-changes balloons will automatically show the new profile chip. Custom implementations can make use of the same visualization, by putting the FxProfileChip component in their application.
By putting a face to the name, it will be much easier for users to identify other team members and make interactions more engaging. Additionally, having user profiles enhances the feeling of being in a collaborative environment, users will no longer feel like they're alone, communicating only with the system. Features to further enhance the latter are on the roadmap for future Fonto releases, such as showing which users are or were recently present in the publication.
Fonto Document History
Table diffing
We're excited to announce a significant improvement to the way table changes are visualized in Fonto Document History. In the past few releases, we've worked tediously on making this complex feature a reality. As a result, we now visualize changes at a much more granular level, such as the addition and deletion of rows and columns.
These improvements enable users to more easily identify specific modifications within their tables made over time while maintaining data integrity. While the ability to view changes over time is one of our greatest strengths, this may result in conflicting or overlapping changes being visualized. To deal with these, we've introduced filler cells. These cells are necessary to visualize certain changes but have never existed in the content. For example, when a row is deleted, and afterward a column is added.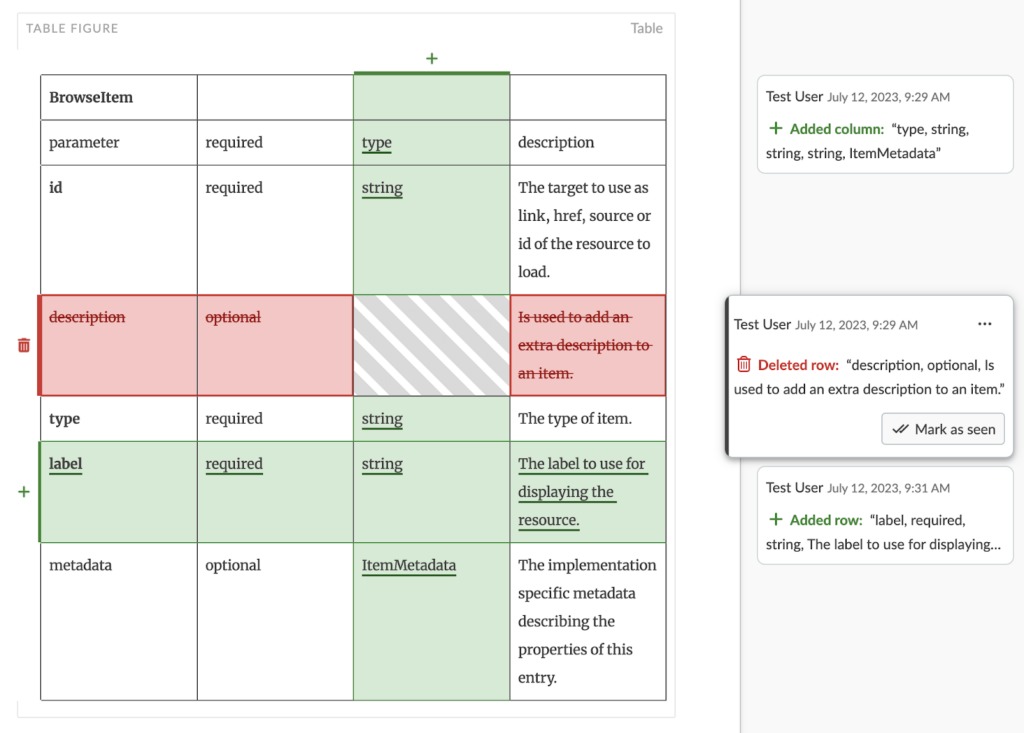 Want to experience Fonto 8.6 yourself? Give it a try!