Somebody, please call Bono. Because we think we have found what he was looking for. This holiday season, Fonto is bringing you our completely overhauled find & replace. We have also finally added a way to monitor and react to mutations in the document in the form of mutation hooks, an upgrade to Font Awesome 5, better table performance, and much more.
Fonto Editor
Find & Replace
Our find-and-replace functionality has been improved, especially for large publications. The new UI provides more feedback on long-running search tasks and a better overview on results and replacements you are about to make. Searching is now also compatible with just-in-time loading, meaning that even the largest publications can be searched.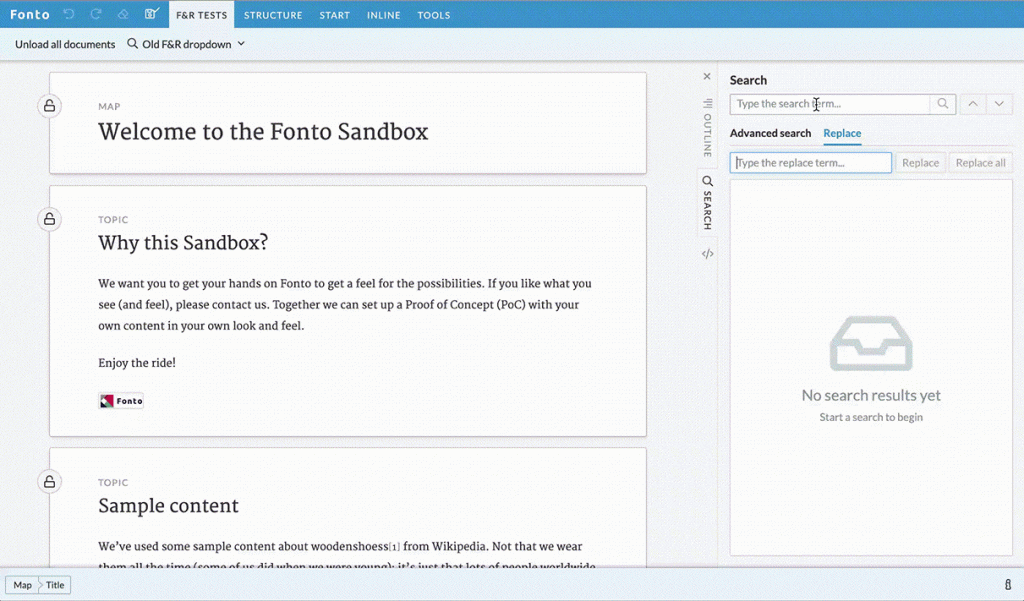 Table performance
We have improved the performance when working with tables again. Operations that mutate the table show an improvement of ~40% to ~60%, and the impact on a toolbar has been improved even more.
Mutation hooks
Ever wish you could reliably do some housekeeping after a change to the document, regardless of how that change was made? With the new `addMutationHook API`, you can! Mutation hooks allow you to automatically make changes if any operation adds or removes certain nodes or causes the result of an XQuery expression to change.
Support for xs:pattern
Fonto regularly and explicitly regulates your content regarding the regulations expressed by regular expressions, regaling end-users as they no longer regret irregularities regressing the validity of their expertly revised content. Fonto now fully supports validating xs:pattern restrictions from your schemas, and it is laying the groundwork for many more Regex-based Fonto extensions in the future, including XPath support.
Font Awesome 5 Pro
We have updated our icon library to Font Awesome 5 Pro. All icons are updated, and as a result, we now have a more consistent style across the application. Font Awesome 5 Pro comes with 7,702 icons from where you can choose from when configuring your application.

Curated text functions
Need a plain text representation of any selection or element in your documents? The new fonto:curated-text-in-range and fonto:curated-text-in-node functions are here to help, and will automatically take any configuration such as footnotes or hidden content into account.
Various bug fixes and improvements.
Fonto Review
We have expanded the Review product to support commenting on objects, like images and formulas. Users may now also comment on the entire publication to support more general feedback that is not attached to a single point in the document. Furthermore, we now support much larger sets of comments, supporting over 4000 comments per publication.
To top all of this, we have improved selections in the Review route, allowing your reviewers to comment on just that part of the content that they want. That, combined with bug fixes across the whole product, make Fonto Review 7.9.0 our stablest release to date.
Fonto SDK
As of this release, the Fonto Development Tools work with multiple versions of the Fonto Editor SDK. They now allow you to compile your schema and change add-ons for a specific version, and upgrade to a version of choice, retroactively starting from 7.8.2. Make sure to update to the latest version of the Fonto Development Tools!
In our next release
In the new year, we intend to keep providing a better, faster, and more intuitive authoring experience. With the upcoming 7.10 release, we'll continue to work on Find & Replace, in particular, providing "replace all" functionality for JIT-loaded documents. Furthermore, we'll do more to work with whitespace in formatted XML documents.
For developers, we will provide a better SDK experience yet, and we'll be improving the performance of our XQuery engine. We expect to ship 7.10 on the 31st of March 2020. More details will follow in the new year.
---
Please refer to your implementation partner for further information on how to acquire release 7.9 for your instance of Fonto. For more details on anything mentioned above, other new features, improvements and bug fixes, please read the release notes.